Le 31 décembre approche et vous ne savez pas quoi mettre ? Manque d'inspiration ou de temps ? Ne vous inquiétez pas, nous avons la solution ! Aujourd'hui je vous propose une tenue chic et simple à réaliser pour le nouvel an sans vous compliquer la vie.
_________________________________
New year's eve is coming soon and you don't know what to wear ? You don't have time and you have no inspiration ? Don't worry, we have the solution ! Today I will propose you a simple and chic outfit for New Year's Eve without complicating your life.
Pour le côté festif, j'ai opté pour une petite veste bleu nuit / argent, parfaite pour les fêtes de fin d'année. Je l'associe à un pantalon moulant noir pour apporter une touche plus sobre à la tenue.
_________________________________
For festivities, I have chosen a silvery midnight blue jacket, perfect for New Year's celebration. Then I combine it with a black skinny trousers to bring a bit of simplicity to the outfit.
Ensuite, je mise sur les accessoires pour être dans le thème de la soirée : un ear cuff Forever New + un collier et une manchette Claire de Divonne + des shoes à paillettes de New Look. Si vous n'avez pas de ear cuff, optez pour des boucles d'oreilles à strass.
_________________________________
I wear accessories to go with the party dresscode:
an ear cuff from Forever New + a necklace and cuff from Claire de Divonne + glitter shoes from New Look.
If you don't have any ear cuffs, you can use earrings with rhinestones.
En moins de 5 minutes, vous avez une tenue élégante pour le réveillon.
_________________________________
In 5 minutes, you have an elegant outfits for New Year's eve dinner.
♦ GET THE LOOK ♦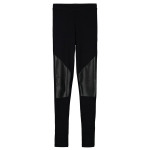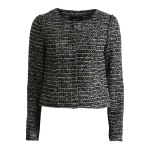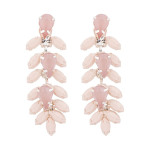 ~ N'oubliez pas de nous suivre sur Facebook et nos réseaux sociaux / Don't forget to follow us on Facebook and our social networks ~