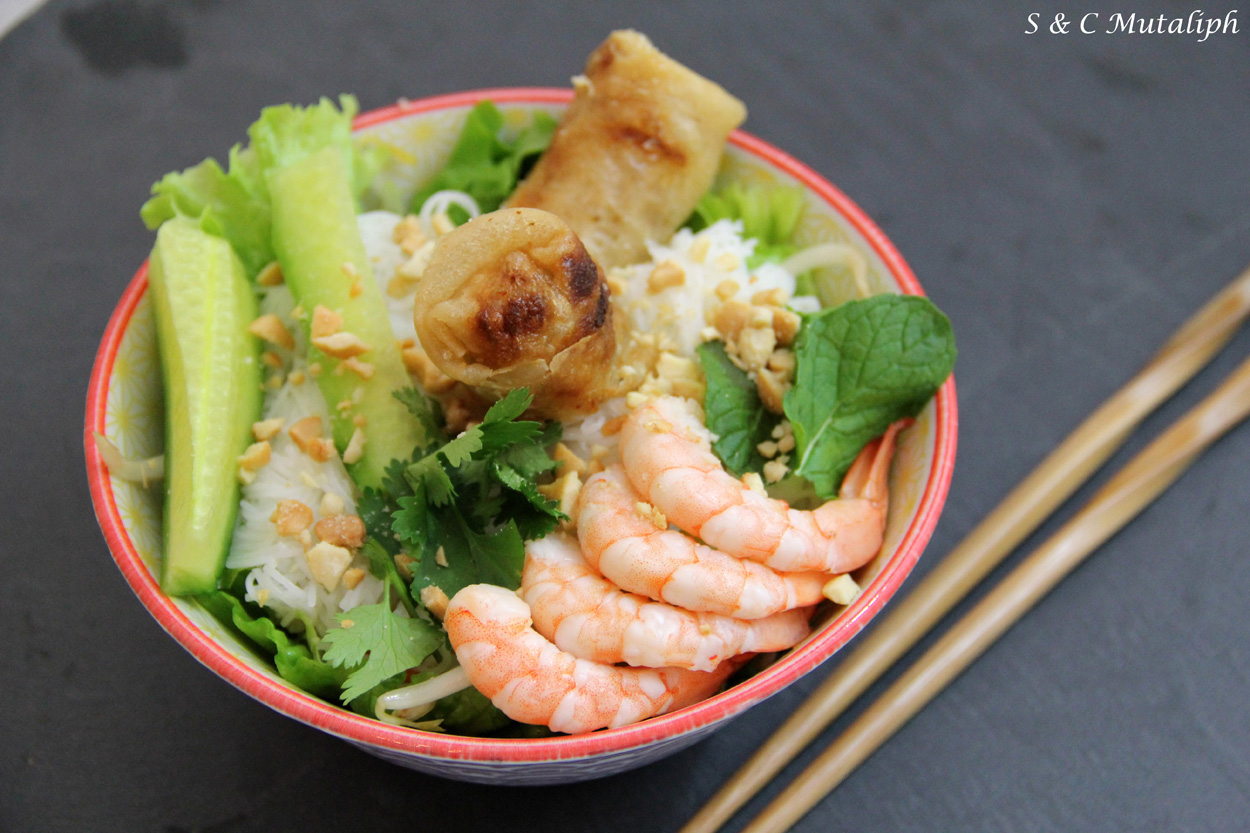 Le week-end dernier, j'avais une folle envie de manger un plat asiatique à la fois diététique et rapide à réaliser. J'ai donc décidé de cuisiner un plat vietnamien, le Bo Bun.
_________________________________
Last weekend I desperately wanted to eat Asian food. So I decided to cook a Vietnamese food, the Bo Bun, which is healthy and quick to prepare.
A la base, ce plat est composé de bœuf mais j'ai décidé de le remplacer par des crevettes.
_________________________________
The original recipe is made out of beef but I decided to replace it with prawns.
* Ingredients *
Vermicelle de riz / Rice vermicelli noodles
Crevettes / Prawns
Coriandre / Coriander
Menthe / Mint
Carotte (en julienne) / Carrot (julienne strips)
Concombre / Cucumber
Germes de Soja fraîches / Fresh soya bean sprouts
Salade Batavia / Batavia salad
Cacahuètes ou noix de cajou grillées (à piler) / Peanuts or roasted cashew nuts (to crush)
Nems / Fried spring rolls
Sauce Soja et Nuoc Mam / Soy and Nuoc Mam sauce
* Recette / Recipe *
Tout d'abord je fais bouillir de l'eau dans une grande casserole. J'ajoute les vermicelles et je laisse cuire environ 8 min. Ensuite je les égoutte et les passe sous l'eau froide.
_________________________________
First, I boil some water in a big pan. I add the vermicelli noodles and let soften for 8 minutes more or less. Finally, I drain and rinse them with cold water.
Pendant ce temps, je coupe le concombre et les carottes en julienne après les avoir épluchées. Ensuite, je lave la salade, la menthe, la coriandre, et les germes de soja.
_________________________________
Meanwhile, I cut the cucumber and carrots into julienne after peeling them. Then, I wash the salad, the mint, the coriander, and the soya bean sprouts.
* Dressage/ Presentation *
Je remplie mes grands bols de soupe avec quelques feuilles de salade et je rajoute par-dessus les vermicelles, les germes de soja et les carottes. Ensuite, je rajoute le concombre, la coriandre et la menthe. Je dispose les crevettes décortiquées et les nems chauffés, puis je saupoudre de cacahuètes pillées. Et enfin, je verse un filet de sauce soja et Nuoc Mam.
_________________________________
I add a few salad leaves and top with vermicelli noodles, soya bean sprouts and carrots into large wide soup bowls. Then I top with cucumber, coriander and mint. I place the shelled prawns and the fried spring rolls, then I sprinkle crushed peanuts. And finally, I drizzle lightly with the soy and Nuoc Mam sauce.
Bon Appétit !
_________________________________
Suivez nos aventures sur Facebook, Twitter, Instagram et Pinterest
Follow our adventure on Facebook, Twitter, Instagram & Pinterest
_________________________________