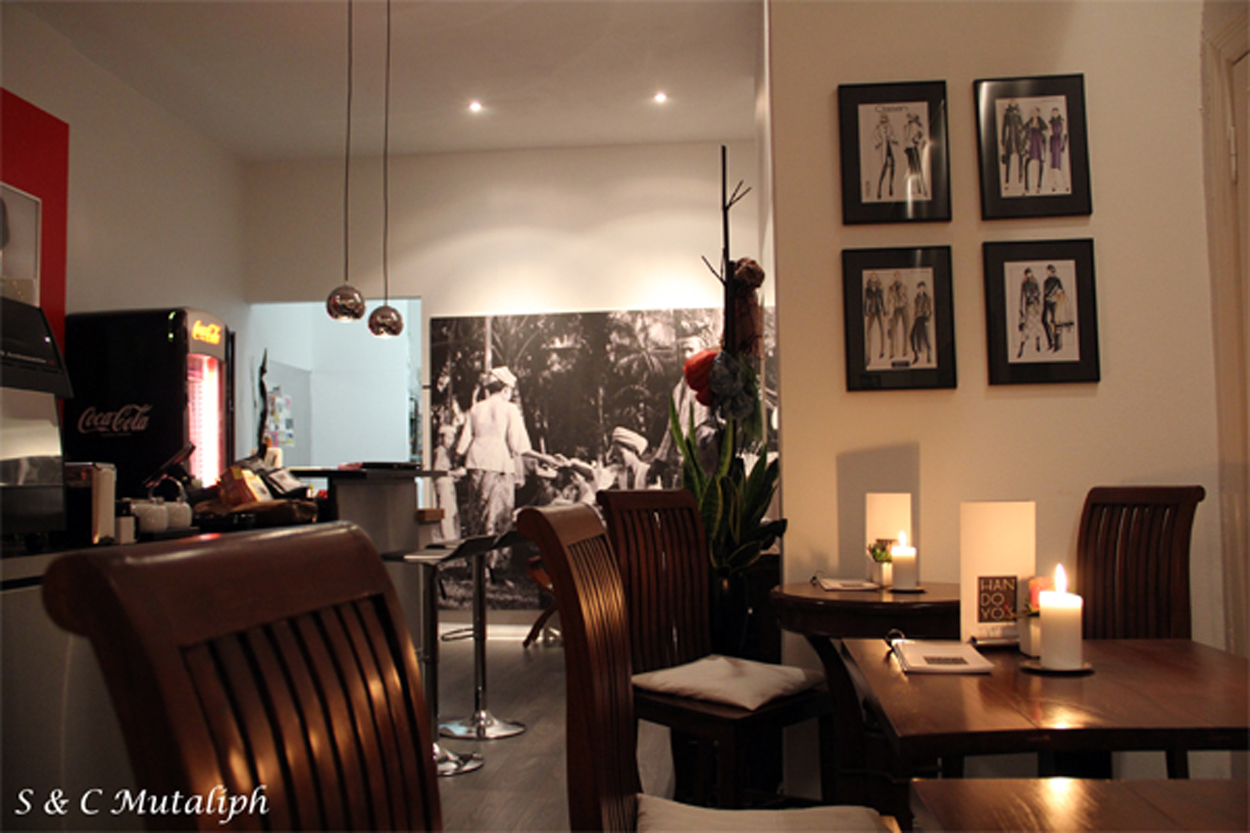 Indonesian restaurant in Berlin: HANDOYO'S
Si vous êtes à la recherche d'exotisme à Berlin, voici l'adresse qui vous faut : HANDOYO'S Sate & Coffee. Ce petit restaurant indonésien est parfait : une superbe décoration représentant le lifestyle indonésien moderne mélangé à un style européen et l'accueil chaleureux du maître des lieux, Handoyo. Mais surtout, une découverte culinaire avec une grande originalité et de très bon goût.
_________________________________
If you are looking for exoticism in Berlin, here is the address that you need: HANDOYO'S Sate & Coffee. This small Indonesian restaurant is perfect: a beautiful design representing the modern Indonesian lifestyle mixed with a European style and a warm hospitality of the owner, Handoyo. But above all, a culinary discovery with a great originality and a very good taste.
~~~~ BIR BINTANG ~~~~
Une bière indonésienne / An Indonesian beer
~~~~ LUMPIA GORENG ~~~~
Nems indonésien / Crispy Indonesian spring roll
~~~~ SATE AYAM BANJAR ~~~~
Brochettes de poulet grillé servies avec une salade, un gâteau de riz et une sauce aux cacahuètes faite-maison / Barbecued chicken skewers served with salad, rice cake and homemade peanut sauce
~~~~ SATE BABI BANJAR ~~~~
Brochettes de porc grillé servies avec une salade, un gâteau de riz et une sauce "légèrement pimentée" faite-maison / Barbecued pork skewer served with salad and rice cake and homemade chili sauce
~~~~ JAVA WAFFLES WITH ICE CREAM ~~~~
~~~~ ES KETAN HITAM ~~~~
Riz noir avec du sucre de palme, du lait de coco et une glace au coco / Sweet black rice with palmsugar, coconutmilk sauce and coconut icecream
~~~~ PUDDING SARI MANIS ~~~~
Dessert au noix de coco accompagné de pulpe et morceaux de mangue, de grenade et de crème / Coconut-pudding with mangopulp, mango pieces, pomegranate and cream
___________________________________________
Handoyo's Sate & Coffee
Ludwigkirchplatz 2
10719 Berlin
Metro : Spichernstraβe (U3-U9)
___________________________________________
_________________________________
Suivez nos aventures sur Facebook, Twitter, Instagram et Pinterest
Follow our adventure on Facebook, Twitter, Instagram & Pinterest
_________________________________